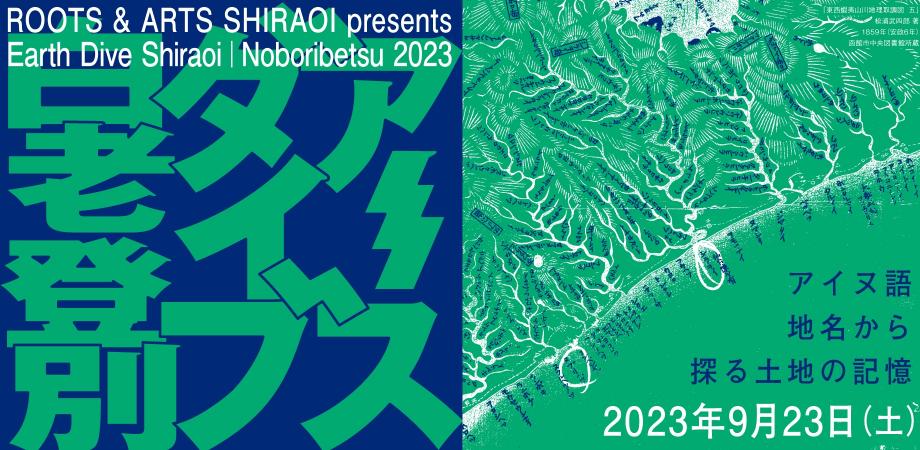 "Earth Dive Shiraol | Noboribetsu" attempts a virtual dive into the era when Ainu place names were alive, by deciphering history and local environment through old records and maps.
Earth Dive involves walking the land with an old map in hand, imagining the lives and living environment of the people of the past while feeling the landscape, vegetation, and other aspects of the area, thus experiencing the culture inherent in the land.
In 2023, the lecturers will be Dr. Akihisa Tanimoto (Professor, Faculty of Humanities and Human Sciences Hokkaido University) and Mayunkiki (Artist), who have been planning and creating Earth Dive Shiraol together for the past five years, and Nobuhiro Kanno, a curator from Noboribetsu City. They will introduce the richness of Ainu place names, the depth of ancient documents and maps, and the joy of walking and exploring the land.
Event Date: September 23, 2023 (Saturday) (Held regardless of weather)
Meeting Place: Noboribetsu City Tourism Exchange Center "Nupur"
1-4-9, Noboribetsu-ko, Noboribetsu City 1-9)
Meeting Time: 9:30 AM
Participants: High school students and adults Minors must be accompanied by a guardian
Capacity: Approximately 20 people
Duration: About 7 hours (including mealtime)
Participation Fee: 6,500 yen (Free for Junior high school students and younger)
Access: JR Noboribetsu Station (Parking available)
What to Bring: Writing utensils, lunch, drink, hat, comfortable outdoor shoes, rain gear (rain boots, raincoat), towels, heatstroke & Insect repellent measures
Additional Information:
Please refrain from using umbrellas as they can be dangerous when walking.
Bento boxes can be purchased nearby on the day of the event.
Registration will close when the reservation capacity is reached.
Please request language translation at the time of application if needed.
Booking:
Via email: waka.eir.ph@gmail.com
Via Piatix: https://peatix.com/event/3649906/view